Always tailored
to your workflow
Imagine you could fully automate the process of washing, disinfecting and sterilising dental instruments, including all handpieces and contra-angle handpieces. The entire infection control process completely automated, with no manual assistance needed at all. A safe and high-quality chair-to-chair system, tailored to your specific workflow. Summox One makes it easy.
The first all-in-one system
The Summox One makes it all possible; the first ever all-in-one system to be created, Summox One exceeds all other existing dental machines and devices. Discover the new standard for washing, disinfecting and sterilising.
Stop wasting time and effort washing, disinfecting and sterilising instruments manually. Simply place the containers with instruments on the Summox One. The system will automatically recognise the container, knows exactly what to do and starts the process. It also automatically stores process information, including track & trace data.
In 7 to 15* minutes the instruments will be registered, sealed – with seals showing the process data – and ready to use. Summox One is an essential tool for any dental care practice with safety and efficiency at heart.
* Time is depending on container type and infection control program.
Speed and safety go hand in hand when using the Summox One. Thanks to technical innovations such as high-performance washing, turbo drying and micro sterilisation with plasma technology, process times are minimal.
Easily organised and stored
The Smart Seal guarantees the integrity of the total infection control process. After the program has finished, the instruments can be used right away – no need to cool down first. The coloured tags enable you to easily organise and store the ready-to-use treatment sets.
Safe way of working
Developed in collaboration with dental care professionals, Summox One eliminates the risk of needle-stick injuries and cross contamination. The process of washing, disinfecting and sterilising has never been this easy. 
These transparent, durable containers have an RFID tag, helping the system determine precisely which steps are needed. Because the containers are vacuum sealed, the optimal conservation and sterility of the instruments is ensured.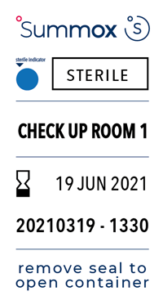 Smart Containers are individually sealed with a Smart Seal. All relevant data, such as the infection control process status, content and 'use by' date, is printed on these seals, leaving no uncertainty as to whether the instruments have been disinfected or sterilised. Until removed, the Smart Seal safeguards the integrity of the sterilisation and the vacuum.
Elke Smart Container wordt geseald met een Smart Seal. Hierop wordt alle relevante informatie geprint, zoals de infection control proces-status, inhoud en THT-datum. Er bestaat dus nooit meer twijfel of de instrumenten gedesinfecteerd óf gesteriliseerd zijn. De Smart Seal beschermt de integriteit van de sterilisatie en het vacuüm, totdat deze verwijderd wordt.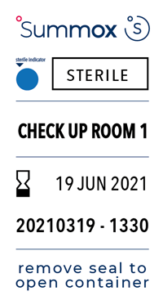 The smart software allows the 7-inch touchscreen to display all relevant information during the infection control process. The Summox One can be connected to the cloud and to WiFi, allowing for remote data analysis and software updates.

Summox One – for an efficient, safe and carefree workflow in any dental care practice.
Do you want to wash, disinfect and sterilise, all in one go?
We are happy to help!